Edison Pagent of Lights - Fort Myers Florida
Muckers is the name given by Edison to his inventive staff; and is thus, an appropriate name for our Cirque du Soleil - like presentation.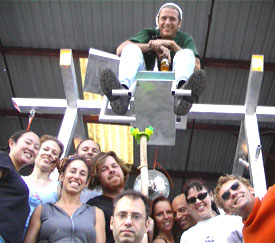 The theme throughout is - how many representations of T. A. can you spy amoungst the aprximately 5000 lights?
As the main sponsor is Florida Aluminum & Steel, the construction of the float is entirerly of aluminum. Designers James DiGiorgio & Vyd laboured 1 month building the light bulb shelled F-250 and 24 + foot labratory.
The Wizard of Menlo Park conducts his troop of Muckers as they rock to an original mix in a club like atmoshpere.
---
330'
12
15
48
8
19
6
2
2
1
1
2
1
1
2
2

---

5219

Light Count

rope lights (1 per inch = 3960)
light sticks (1/in = 216)
strings of christmas lights (apx 750)
LEDs
club spots
white & colored light bulbs
500 watt halogens
colored floods
laptop computers
digital video projector
250 watt spot light
flicker bulbs
lava lamp
static globe
fibre optic sets of 100
head light

---

aproximate total
---