Amenities


Boating is our theme. You are just moments from the Gulf at Bayside Estates
Men's and Women's Club
Computer Club
Yacht Club
Shuffleboard
Bingo
Men's and Ladies Golf
Art Classes
Picnic Area

Water Aerobics
Monthly Dinner Dance
Golf Driving Net
Horseshoes
Bowling
Dancing
Card Playing
Walk or Bike 6 miles within the community
First class amenities at Bayside Estates include a heated swimming pool, a golf driving net, shuffleboard courts and horseshoe pits. A complete picnic area is available for private parties and community cookouts. Bayside Estates also boasts a beautiful clubhouse with a library, card room, dance floor and kitchen. A wide variety of club activates are available from the Bayside Estates' yacht and golf clubs to the men's and women's club.
Residents enjoy the on-site art classes as well as bingo games and dinner dances during the season. Keeping fit at Bayside Estates is easy with planned water aerobics classes, dance classes and bike riding or walking along six miles of road within Bayside Estates.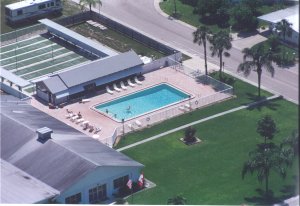 Clubhouse (lower left), pool and shuffleboard courts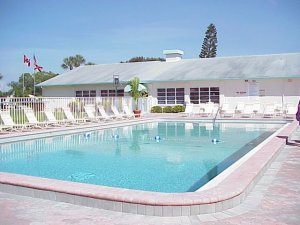 Our huge pool will keep you cool in our balmy sub-tropical climate.