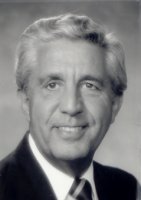 Joseph M. Reagan (right) was born in Syracuse, New York and educated at the University of Michigan (Business, Marketing and Management), Michigan State University (Communications and Psychology) and the American Investment School of Finance & Management AMA (American Marketing Association.)
Throughout his career, Mr. Reagan has implemented effective sales management training programs and developed systems and highly creative executive management/buying decision Proposal Presentations. He has a keen awareness and knowledge of conditions that promote positive and effective programs for innovative marketing to anticipate future customer requirements and marketing direction.
Mr. Reagan is a Florida Licensed Realtor Consultant. He has consistently been a monthly sales leader and has generated significant business from innovative and accelerated marketing of new condos, homes, villas and lot sales. His responsibilities include marketing, planning and advertising with support/promotions and has broad background experience with construction projects, competitive bidding, dealing with sub-contractors, customizing, change orders, etc. He has been involved with project development of custom built homes and high volume condo marketing. Mr. Reagan is familiar with the wide range of mortgage financing, VA-FHA entry level markets, and custom up-scale markets.
With AM International, Inc., a multi-graphics (reprographics) Division in Troy Michigan, Mr. Reagan as been a National Accounts Marketing Manager serving as an executive with expertise to the MAJOR AUTOMOTIVE INDUSTRY. He has functioned as a major service and equipment program manager in the reprographics systems area. This market thrust has been the penetration and expanded growth of major graphics account businesses while specializing within the framework of the major corporate business structures along with banking and government. He also was involved with the coordination of public relations with major corporations and their various world-diversified field operations. He has extensive management and supervisory experience with Customer Services regarding Teamwork as it relates to customer satisfaction, interfacing with 100 sales staff field operations personnel in the process.
He is also active with American Investment Company, a Public Loan corporation as Branch manager with responsibilities for the organization and execution of lending activities with a staff of 25. He has managed structured field assignments for the establishment of market study surveys, construction, and feasibility studies to support opening new branch locations that became successful and profitable. In this work he also developed major financial factoring buy-out programs for businesses.
Mr. Reagan has achieved corporate recognition for outstanding sales and profit with lifetime membership in the AM Hundred Club (an annual award) over nineteen consecutive years, surpassing annual sales quotas placing him among the top 1% of individuals in corporate sales volume.
Mr. Reagan is a Past President of the Lansing Lenders Association and a member of the Ann Arbor Club and the Michigan Elks Lodge.
---
Joseph Reagan
8595 Charter Club Circle, Suite #8
Fort Myers FL 33919
239-481-2057
Email: kanebroker@hotmail.com
Home | About Joe | English Form | German Form | Spanish Form | French Form
Websites by
Lade's Internet Service, Inc.