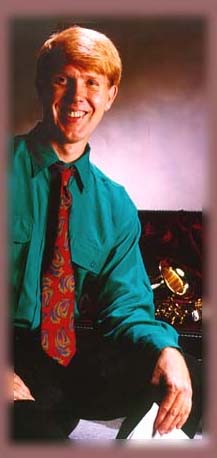 NEAL RAMSAY
saxophonist

A self-stylized musician, Neal Ramsay has many times been described as a "saxophone crusader". As a performer he commands a highly versatile technique combined with the imagination to put that technique to good use!

His recitals combine the traditional classic saxophone repertoire with his own transcriptions of classical pieces originally written for other instruments ... jazz pieces and rags ... and an ever increasing number of works he is commissioning from contemporary composers -- for a wide range of performers in a wide range of styles.

As well as dazzling sophisticated concert goers with his multifaceted recitals, Neal serves as an inspiration and role model for young aspiring musicians through his presentations in schools and universities.

Recent & upcoming engagements:
residency for the Quad Cities Arts Council with performances at schools and universities in the Quad cities area of Iowa and Illinois
residency sponsored by the Kellogg Foundation including performances in Michigan under Kellogg sponsorship
concert with the Battle Creek Boy choir, June 8, at the Tennessee Performing Arts Center, Nashville, Tennessee with a recording of commissioned works for saxophone, boy choir and string orchestra to be released this fall

Management:
Columbia Artists Management, Inc.
New York City

CD recordings:
Sax Fifth Avenue
Pictures and Other Exhibitions
NewStream Christmas

Mr. Ramsay is available to serve as soloist with bands and orchestras, and to present clinics and masterclasses. For more information call: (615) 367-2798 or fax: (615) 360-7233.