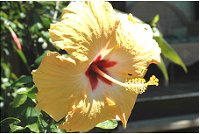 Amenities
The Kona Kai offers MOTEL rooms and EFFICIENCIES, as well as SUITES for families with up to 6 members. Enjoy linen service, wireless internet, cable T.V., air conditioning, gas grill, and one of the largest freshwater pools on the island. We are sure you will enjoy the quiet garden setting of the Kona Kai combined with the convenience of walking or biking to your favorite Island shops, restaurants, and beaches. Beach access is only 3/4 mile away and easily accessible by bikes. Sanibel offers 25 miles of well maintained bike paths Come share our Island with us!

Enjoy the Olde Sanibel River

Explore unspoiled beaches with Captín D

Huge pool for a relaxing swim after a day of shelling
We are providing this page on our website to give you additional information about our Island and Lee County (commonly called the "Lee Island Coast".) Just click on a button below to learn more.
Kona Kai Motel
1539 Periwinkle Way
Sanibel Island FL 33957
(800) 820-2385
(239) 472-1001 Phone
(239) 472-9232 Fax
E-Mail: konakai@konakai.comcastbiz.net
Websites by
Lade's Internet Service, Inc.