Rates, Reservations / Directions, Distances
RV Rate Schedule 2015-2016-2017
Effective October 15th, 2015
> > > RV's up to & including 34' < < <
Seasonal (5+ mths. or more) $ 747.00 per month (Extra Day $28 ea.) November to April
3 Months -
$ 2,475.
(Extra Day $29 ea.) Sunday's and
Monthly -
$ 880.
(Extra Day $33 ea.) after dark arrivals are
Weekly -
$ 255.
(Extra Day $40 ea.) DISCOURAGED !
Daily -
$ 40.

Thank

Storage -
$ 50.
Per Month Plus State Tax You

> > > RV's 35' and larger & ALL 50amp < < <

Seasonal (5+ mths. or more) $ 783.00 per month (Extra Day $31 ea.) November to April
3 Months -
$ 2,550.
(Extra Day $33 ea.)
Monthly -
$ 945.
(Extra Day $37 ea.)
Weekly -
$ 275.
(Extra Day $42 ea.)
Daily -
$ 45.

Storage -
$ 50.
Per Month Plus State Tax

Rental rates are based on 1 or 2 persons per site. Additional occupants, overnight guest, including children, will be charged $ 5.00 per day.
Rates and policies are subject to change and include FULL HOOKUPS: Water, Sewer & Electric (Storage Excluded)

A deposit of $100.00 is required to reserve a site

. Upon arrival you must pay balance of rent and register. DEPOSITS ARE REFUNDABLE ONLY WITH 30 DAY NOTICE IN WRITING PRIOR TO ARRIVAL DATE.
THERE IS NO REFUND OF RENT, PAY ONLY FOR TIME NEEDED. ALL RENT IS PAYABLE IN ADVANCE.
Storage is $50.00 per month plus state tax and must pay for a minimum of 4 months storage. ALL units on sites must be tied down. Units are stored at owner's risk. Swan Lake is NOT liable for theft or damage.
PET POLICY: Swan Lake is a 20lb. max pet friendly community. Aggressive dogs of any breed are not welcome. If your dog shows behavior that is protective and unfriendly to strangers, PLEASE LEAVE THEM HOME. Allowing your pet to bark uncontrollably day or night will not be permitted and you may be asked to leave if you are not able to control your pet's barking behavior. All dogs are required to be under the control and visual observation of their owner at all times. Pet MUST BE LEASHED whenever the animal is outside the of owner's camping trailer, vehicle or motor home. No dog should be left tied up and unattended outside the owner's camping equipment. Finally, ALL PET OWNERS MUST PICK UP AFTER THEIR PET !! - even late at night before owners turn-in for the evening.

Reservations
For reservations, please complete the form below and click the "Submit" button. We will reply to your request via email as soon as possible. If you do not hear from us within a couple of days, please call. Park Office CLOSED on Sundays

Directions to Swan Lake
Latitude: N 26*41.892' Longitude: W 081*53.427'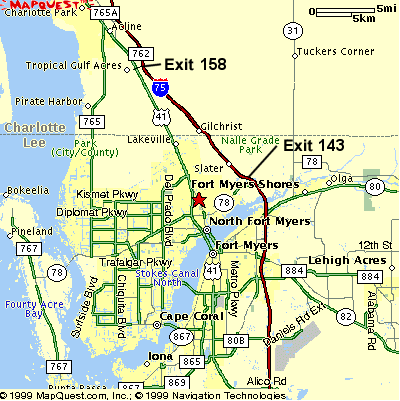 From North: Take I-75 Exit 158 to US 41 South, 11.4 miles to Bus.41.
1.3 miles south on Bus.41 Swan Lake is on the left at Littleton Road.
From South: Take I-75 Exit 143 "Bayshore Rd." State Rd. 78 west
5.2 miles to Bus. 41 turn Right 1.1 mile on right at Littleton Road.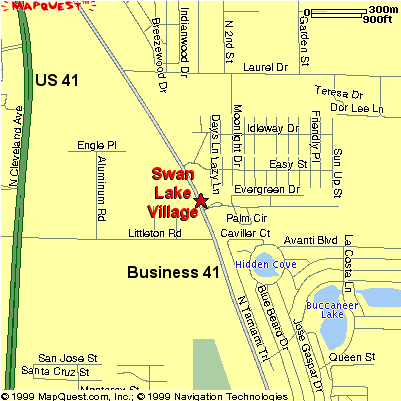 Distance from Swan Lake to:
| | |
| --- | --- |
| Downtown Fort Myers 4mi | Cape Coral 4mi |
| Matlacha 13mi | Punta Gorda 15mi |
| Sanibel Factory Outlets 15mi | Pine Island 16mi |
| San Carlos 17mi | Estero 20mi |
| Sanibel Island 20mi | Fort Myers Beach 20mi |
| Fisherman's Village 20mi | Reg. Southwest Airport 23mi |
| Bonita Springs 27mi | Naples 40mi |
| Captiva Island 31mi | Sarasota 72mi |
Swan Lake Village & RV Resort
Business Office: 207 Swan Lake Drive
North Fort Myers FL 33917
(239) 995-3397 Fax (239) 995-7879
E-Mail: SwanLakeVillage@embarqmail.com

Home | Activities | Rates/Directions | Facilities | Local Links