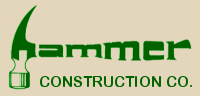 Cape Coral FL
---
LOCAL LINKS

We provide a few links to websites that will assist the reader in learning more about our area. We hope that you find our little corner of paradise inviting!

Hammer Construction Co.
601 Del Prado Blvd. N. Suite 8
Cape Coral FL 33909
Phone: 239-945-6080
Fax: 239-945-1404
E-Mail: Hammer@cyberstreet.com
Copyright © 1999-2003 Hammer Construction Co. All rights reserved.