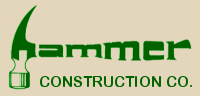 Cape Coral FL
---
REQUEST INFORMATION

Please complete the brief form below to obtain additional information. We will reply to your requests within 48 hours. Thanks for your interest in Hammer Construction's homes.

Hammer Construction Co.
601 Del Prado Blvd. N. Suite 8
Cape Coral FL 33909
Phone: 239-945-6080
Fax: 239-945-1404
E-Mail: Hammer@cyberstreet.com

Copyright © 1999-2003 Hammer Construction Co. All rights reserved.