About South Florida Sailing
We are devoted to the cruising lifestyle and our young company is the natural culmination of a life-long sailing dream. We own all of our yachts and take great pride and personal interest in all aspects of their state of repair. You can expect to find your yacht fully equipped to maximize comfort and safety, and be well maintained and clean. We set high standards for our yachts and are committed to maintaining those standards.
It is our belief that southwest Florida offers some of the finest cruising grounds and overall sailing value anywhere. Our charter rates are some of the most reasonable in Southwest Florida. It is our goal to begin with the number of days you have to spend sailing (2 - 14 days) and develop a personalized itinerary to maximize your south Florida sailing adventure.
Our port-of call is located at Salty Sam's Marina on Fort Myers Beach, Florida. From Southwest Florida Regional Airport in Fort Myers, it is a short 20-30 minute drive to our home base.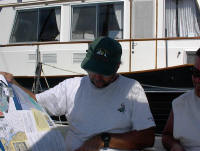 Our Director of Sailing Operations, Captain Hugh James (right), has over 15 years of experience sailing the waters of south Florida. He grew up sailing and has an unyielding dedication to the pure sailing experience. Captain Hugh will conduct an extensive checkout and chart briefing prior to your charter and be available at any time during your charter should you need assistance.
If the information offered through our website does not answer questions you might have, don't hesitate to give us a call.
We look forward to hearing from you.
Ron & Terri Peterman
South Florida Sailing
Salty Sam's Marina
Fort Myers Beach, Florida
for information: Phone: Toll Free (800) 444-5915
Fax: (217) 498-5915
E-mail: RTpete809@aol.com
[Home] [About Us] [Boats] [Destinations] [Bareboat] [Crewed] [Condo/Sailing] [Booking] [Helpful Links] [Customer Feedback] [Day Sails]
Websites by
Lade's Internet Services, Inc.