Crewed Charter
For those interested in cruising with a captain, we are happy to provide a licensed, qualified captain for your sailing charter.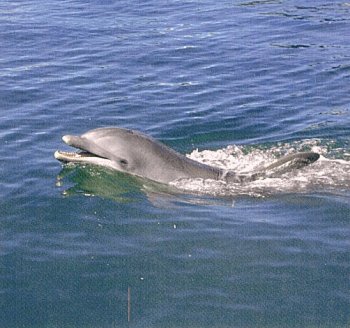 Dolphins are everywhere in Southwest Florida!
Enjoy this time under sail, watch the dolphins follow the bow of the boat, anchor near a secluded sandy beach, go snorkeling, and enjoy the vast southwest Florida sea bird population and the breathtaking sunsets. All of this while a captain assumes full responsibility for navigation and operation of the vessel.
Once aboard you will find ample bedding, towels and dishes for your comfort. You can choose to do your own provisioning, or we will assist in provisioning the boat for your charter. The boarding night is free and will allow you the opportunity to acclimate yourself to the boat and be fresh and ready for the next daysí departure.
Crewed Charter Rates
Boat
High Season
11/15-4/30
Low Season
5/1 - 11/14
Day
Week
Day
Week
Pearson 323
$595
$2765
$490
$2490
Beneteau 321
$630
$2865
$530
$2590
Morgan 41
$690
$3600
$650
$3025
Dinghy and outboard included at no additional cost
Your expenses include fuel, port charges and provisions (for an estimate of those see "On-Line Booking" page)
Complimentary night on boarding your yacht with extended day charter
Rates do not include Florida sales tax
South Florida Sailing
Salty Sam's Marina
Fort Myers Beach, Florida
for information: Phone: Toll Free (800) 444-5915
Fax: (217) 498-5915
E-mail: RTpete809@aol.com
[Home] [About Us] [Boats] [Destinations] [Bareboat] [Crewed] [Condo/Sailing] [Booking] [Helpful Links] [Customer Feedback] [Day Sails]
Websites by
Lade's Internet Services, Inc.