Day Sail Charters and Rates
If you are in the Southwest Florida area and would like to spend a half-day or a full day aboard a Luxury Yacht with a captain, we can accommodate you. Beginning from our convenient location at Salty Sam's Marina, you will be sailing in the Gulf of Mexico a mere 15 minutes after you are underway. No long rivers or harbors that can take one to three hours out of your sailing time. Let one of our USCG licensed captains take full control of the sailing or participate and learn sailing techniques if that interests you. Come explore with us the unspoiled beauty of the Gulf Cost Islands.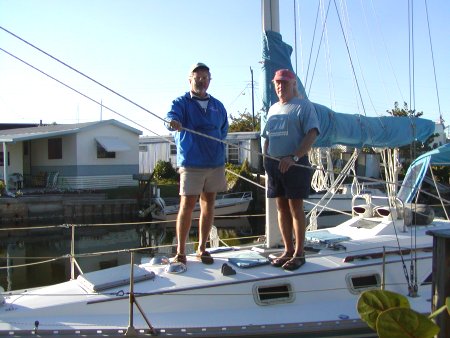 Captains Jerry and Ron
Day Sail Charter Rates
(Parties up to 6)
Half Day
$210.00
Full Day
$310.00
Contact us for combining sailing with you special occasions, e.g., Weddings, Parties, Birthdays and Corporate Outings.
South Florida Sailing
Salty Sam's Marina
Fort Myers Beach, Florida
for information: Phone: Toll Free (800) 444-5915
Fax: (217) 498-5915
E-mail: RTpete809@aol.com
[Home] [About Us] [Boats] [Destinations] [Bareboat] [Crewed] [Condo/Sailing] [Booking] [Helpful Links] [Customer Feedback] [Day Sails]
Websites by
Lade's Internet Services, Inc.