Destinations/Points of Interest/Sample Itineraries
(Click on the images to view enlargements)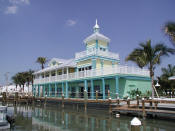 Beginning from our port at Fort Myers Beach, Southwest Florida offers some of the best cruising grounds in the world, from Tampa in the north to the Florida Keys in the south. Regardless if your interests are to watch the sun slip into the Gulf at a secluded anchorage or a fine dinner ashore at one of the many top notch marinas, south Florida can accommodate your sailing plans. This area makes for very casual coastal cruising at your desired pace.
North from Fort Myers Beach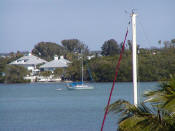 Heading north from Fort Myers Beach, you can pick up the calm, controlled waters of the Intracoastal Waterway. Click here for chart. This scenic waterway begins at Sanibel Island with Pine Island Sound and winds its way between Pine Island to the east and the Barrier Islands of Sanibel, Captiva, North Captiva, Cayo Costa, and Gasparilla to the west. The anchoring possibilities are endless in this stretch and many of the islands are only accessible by boat. If anchoring out is not for you, there is an abundance of fine marinas and resorts as well. As you pass Captiva and North Captiva Islands, you will approach the pristine barrier island of Cayo Costa. This tropical paradise offers excellent shelling, swimming, or simple sunset watching. Pine Island Sound is also a Mecca for bird-watchers.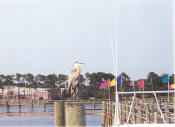 At the north tip of Pine Island Sound you approach Charlotte Harbor. This area offers a beautiful and well-protected cruising ground and a perfect alternative to the brisker waters of the Gulf. The marina facilities at Punta Gorda are among the best in Florida.
Heading north past Siesta Key and Longboat Key, you reach the northern tip of our cruising grounds, the Cosmopolitan Seaports of St. Petersburg and Tampa Bay.
Points of Interest (Going North)
Sanibel Island - One of the best shelling, bicycling and relaxing destinations in south Florida. The most developed part of Pine Island Sound.
South Seas Plantation - Located near the northern tip of Captiva Island, South Seas Plantation is one of the finest marinas in western Florida. Great restaurant too.

Cabbage Key - At the northern tip of Pine Island Sound. This "Old Florida" island hideaway features a marina/restaurant (left) that is fabled to have provided the inspiration for the Jimmy Buffet song, "Cheeseburger in Paradise". Check out the wallpaper.
Cayo Costa - This secluded island has nine miles of pristine undeveloped beach, perfect for nature walks and shelling. You may wish to catch an open air tram through the Cayo Costa State Park.
Gasparilla Island - Home to one of the most beautiful Victorian inns in all of America, the Gasparilla Inn at Boca Grande Village.
South from Fort Myers Beach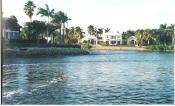 Sailing south from Fort Myers Beach it is a comfortable 4-5 hour sail via the Gulf of Mexico to Naples. Enter Gordon Pass and anchor out at the very protected anchorage just inside the pass, or put in at the Naples City Dock and take in dinner at one of the excellent local dockside eateries.
Seven miles south of Naples' Gordon Pass is Marco Island. The Marco River Marina, a fine local facility, is the sister port to our primary SFS location at Fort Myers Beach. Traveling on south you can enter the eclectic seaport of Goodland which time seems to have passed by. In addition to its laid back atmosphere, Goodland is noted for its superb seafood restaurants. This is the beginning of the mangrove populated Ten Thousand Islands. Click here for chart.
Proceeding south at this point begins the gateway to the fabulous Florida Keys. This passage to Key West will take approximately 18-20 hours from Naples/Marco Island.
The Florida Keys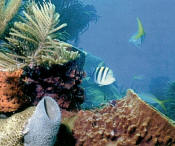 The Florida Keys offer some of the finest sailing destinations anywhere. The abundance of first rate charts and other navigational aids make this an ideal cruising ground for sailors of all skill levels. Immediately you will notice the water in the Keys to be a beautiful hue of clear blue. The Florida Keys boasts the only living coral reef in the continental United States. In the Keys you can cruise at any pace that suits you. Spend days snorkeling, swimming, fishing, or exploring uninhabited islands or beaches.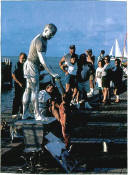 If you are looking to mix sailing with a traditional resort vacation, the Keys offer both. You can cruise from one resort or luxury marina to another offering golf, tennis, gourmet restaurants, etc. The locals, "conchs," are very friendly and accommodating and Key West offers old "Florida-Style" living at its very best. At this famous destination visit eclectic bars, restaurants, shops or simply take in the legendary sunset at the nightly sunset festival at Mallory Square. (left)
Points of Interest (Going South)
Naples City Dock - The Dock Restaurant - Great dockside fare.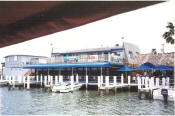 The Snook Inn - Harborside dining at this famous Marco Island restaurant (right) is great for both lunch or dinner.
Key West - Duval Street - the signature attraction of old Key West
Sloppy Joe's - Hemmingway's favorite bar.
Mallory Square - Every night at sunset is an unmatched celebration of street theater at Sunset Park
Hemmingway House - Visit the house where Hemmingway wrote some of his famous novels.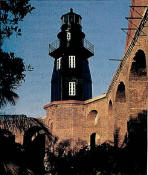 Dry Tortugas - One full days' sail west of Key West and home of Fort Jefferson, the union Fort dating back to Civil War days. The Tortugas are the southernmost waters on the eastern coast of the United States. This area offers excellent anchorage and snorkeling opportunities. A photo of the old fort is shown on the left. The fort is alleged to be the place where Dr. Samuel Mudd, a physician who treated John Wilkes Booth was held. The waters surrounding the few keys that comprise the Dry Tortugas are some of the clearest in this hemisphere!
Sample Itineraries
Weekend Sailing Getaway (3 days) -- From Fort Myers Beach to Cabbage Key and Gasparilla Island on Day 1. On to Cayo Costa and Charlotte Harbor through scenic Pine Island Sound on Day 2. Return to Fort Myers Beach via the outside Gulf route on Day 3.
7 day Extended Cruise North -- From Fort Myers Beach through Pine Island Sound to Cabbage Key on Day 1. Days 2 through 5 spent exploring the vast protected waters of Charlotte Harbor including Gasparilla Island, Punta Gorda, and Fisherman's Village. On Day 6 traverse back to the exclusive resort marina at South Seas Plantation. From South Seas Plantation back to Fort Myers Beach on Day 7.
7 day Extended Cruise South -- Day 1 begin making the passage from Fort Myers Beach to the Galleon Marina at Key West. Spend Day 2 relaxing and exploring the historic seaport of old Key West. On the Day 3 sail out to "Sand Key" for snorkeling. On Day 4 sail up Hawk Channel to Newfound Harbor, anchor out and take in more snorkeling at Looe Key State Park. On Day 5 traverse the outside route (outside the Coral Reef) back to Key West. Sail back to Fort Myers Beach on Day 6 and Day 7.
Top of Page | More Destination Photos
South Florida Sailing
Salty Sam's Marina
Fort Myers Beach, Florida
for information: Phone: Toll Free (800) 444-5915
Fax: (217) 498-5915
E-mail: RTpete809@aol.com
[Home] [About Us] [Boats] [Destinations] [Bareboat] [Crewed] [Condo/Sailing] [Booking] [Helpful Links] [Customer Feedback] [Day Sails]
Websites by
Lade's Internet Services, Inc.